About
Naxos
A gem right in the center of the Aegean sea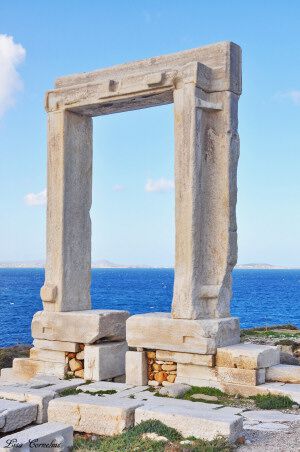 Naxos is an island in Greece that has something to offer to everyone. Whether you are looking for a place to relax, enjoy the sea and the sun, or somebody who wants to see and do as much as possible or just party: Naxos is the greenest and largest of the Cycladic islands and very different from its neighboring islands. The uniqueness of Naxos is due to its varied landscape. It is an island with imposing mountains, verdant plateau and valleys, rivers and springs, caves and large sandy beaches backed by sand dunes and cedar trees. It is one of the most visited islands by tourists and island hoppers and consequently has a good infrastructure to support these visitors
Different villages
Naxos Island has over 40 villages to visit and most of them have their own distinct character and style. Naxos Town (or Chora) is Naxos capital and port and it is a lively town with 8,000 inhabitants. Naxos Town combines beach (Saint George) and cosmopolitan town resort with a lot of interesting places to visit.
Most of the villages in Naxos Island are in the middle and the north of the island. There are many routes to choose from, and for the adventure lovers there are more than 20 walking tours to discover olive groves, forests, caves, ravines.
At a glance, Potamia is a group of three beautiful villages in a fertile valley, Melanes is close to Potamia and it is the place to see the huge statue of Kouros. Apeiranthos or T'Aperathou is a pretty village on the slops of Mount Zas at 650m altitude, Koronos, a stepped village is one of the most beautiful villages in Naxos Island. Keramoti is a very attractive village full of walnut trees and surrounded by mountains. Halki or Tragea once administrative centre is a beautiful village with long history. Filoti is a nice village, sourrounded by olive groves and settled on the flank of Zas mountain. Sagri with its ancient monuments, Byzantine Churches, Venetian castles is one of the interesting places in Naxos.
The most beautiful beaches in Europe
Naxos really has some of the most wonderful beaches in Greece. There are beaches for all tastes. White sandy beaches, beaches with thicker "stony" sand as well as beaches perfect for sports like kitesurfing, windsurfing, beach volley, etc.
Often villages cannot be distinguished from the nearby beaches. The beaches are so beautiful that when people refer to a village they are actually talking about the beach (eg. Agia Anna is a village but most people refer to the beach when they mention Agia Anna).
Naxos Island has a long and rich history, as it was always an island of strategic and commercial interest for many different nations, making it today a sightseeing jewel of the Cyclades Islands Cluster. The influence of the various rulers is apparent in the sheer abundance and variety of historical sites. While on Naxos Island.
Latest
Properties
Beautiful properties to rent for your holidays. Select the perfect villa for your family.