Description
ΜΙΑ ΜΟΝΑΔΙΚΉ ΕΜΠΕΙΡΊΑ ΠΟΥ ΔΕΝ ΠΡΈΠΕΙ ΝΑ ΧΆΣΕΤΕ! Ένα μαγευτικό ταξίδι ξεκινά από το γραφικό λιμάνι της Αγίας Άννας στις 9. 45. Η πρώτη στάση με το παραδοσιακό ξύλινο καραβάκι μας είναι στο Κάτω Κουφονήσι, έναν επίγειο παράδεισο με πανέμορφη και γραφική θέα. Μια τέλεια ευκαιρία για ένα χαλαρωτικό μπάνιο στα γαλαζοπράσινα νερά των Μικρών Κυκλάδων. Θα ακολουθήσει ένα νόστιμο ελληνικό μπάρμπεκιου με τοπικό κρασί - θα υπάρχουν και χορτοφαγικές επιλογές. Περιλαμβάνονται απεριόριστα μπουκάλια νερού και αναψυκτικά. Το ταξίδι συνεχίζεται στις χρυσές ακτές του Άνω Κουφονησίου με την ατμόσφαιρα απόλυτης γαλήνης. Μετά από 20 λεπτά πλεύσης, θα φτάσετε στο κατοικημένο νησί Άνω Κουφονήσι. Για τρεις ώρες, θα έχετε τη δυνατότητα να εξερευνήσετε αυτό το μικρό νησί και τις όμορφες παραλίες του, με κύρια παραλία την "Άμμο" στο κέντρο του νησιού.
Το νησί θα σας εκπλήξει με τις όμορφες παραλίες του και την παραδοσιακή του πόλη, την οποία μπορείτε να εξερευνήσετε με τα πόδια. Με ένα μικρό αντίτιμο, μικρά θαλάσσια ταξί μπορούν να σας μεταφέρουν στις πιο απομακρυσμένες παραλίες και να σας επιστρέψουν στο λιμάνι για να προλάβετε τον Ιάσονα για το ταξίδι της επιστροφής σας στη Νάξο. Αναχωρεί από το Άνω Κουφονήσι στις 17:00 και επιστρέφει στο λιμάνι της Αγίας Άννας στις 19:15.

Photos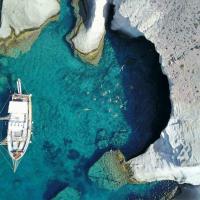 Latest
Properties
Beautiful properties to rent for your holidays. Select the perfect villa for your family.